Artificial turf offers convenience, versatility, and durability that keep your lawn green all year long, so it's no wonder why more and more homeowners are choosing turf over natural grass.

However, there's no denying the fact that the largest hurdle in the way of having the maintenance-free lawn of your dreams is the upfront cost. 
How much does artificial turf installation cost?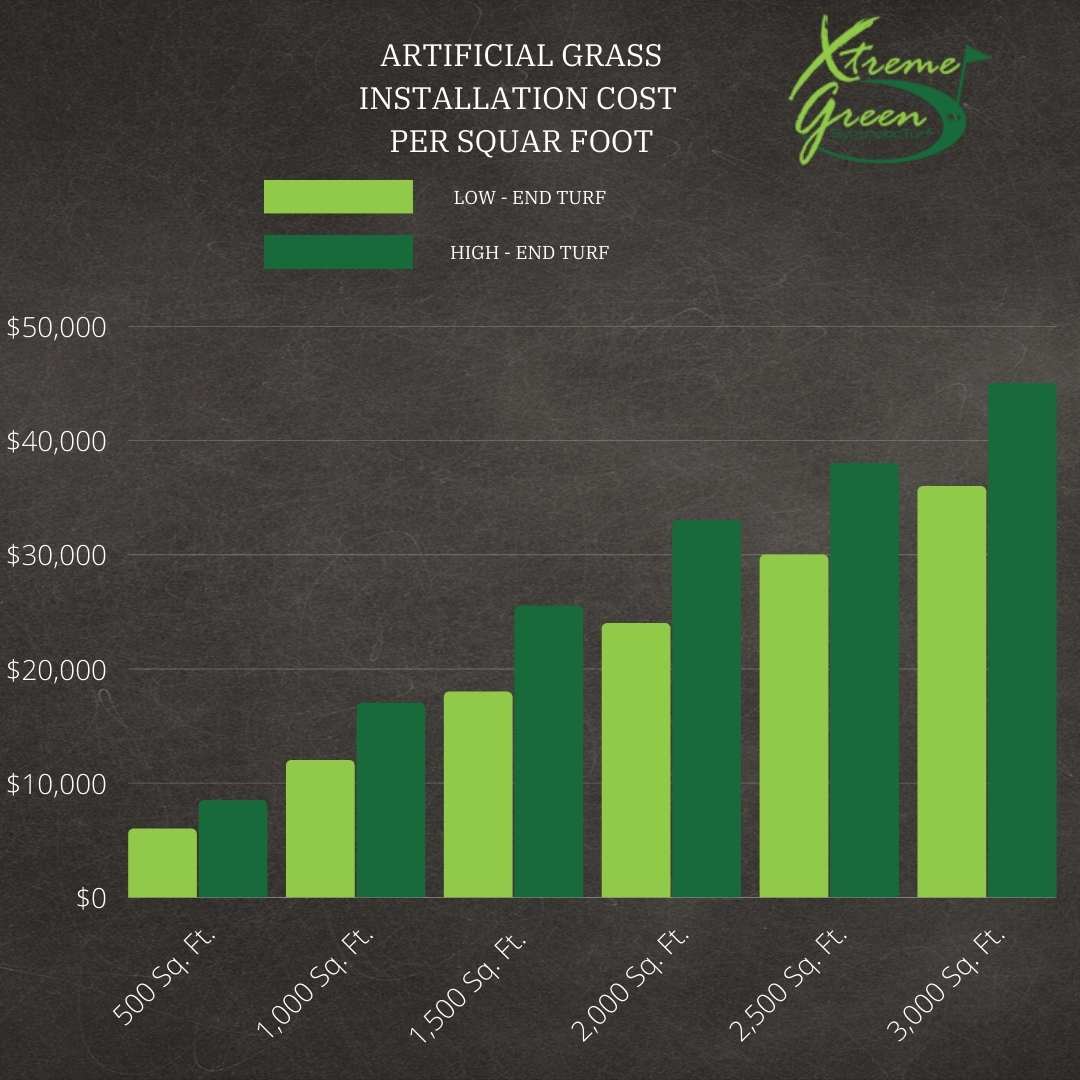 These days, a professional artificial turf installation starts at around $6,000 for a 500-square-foot lawn. This price considers low-end artificial grass, excluding miscellaneous costs. 
However, don't get too caught up on the estimated price! Remember that artificial turf is an investment that pays for itself in the long run with little to no maintenance or watering requirements.  
In this article, you'll learn how much you can expect to pay when installing artificial turf, as well as learn the factors that affect your artificial turf installation costs in 2022. 
Installation Price Guide: The Factors Affecting Total Cost
Your artificial turf cost will depend on the size and shape of your lawn and the type of artificial turf you choose. 
Other factors that can affect the final cost of your project include materials, operation, and labor.
Let's dig into these one by one.
1. The Materials Needed for Artificial Turf Installation
Artificial turf installation follows a process and the materials you need will depend on the state of your current lawn. 
Generally, you'll need common garden tools such as rakes, hoses with water, shovels, and wheelbarrows. You'll also need artificial grass, base material, mow strip, and artificial grass infill.
The most common synthetic turf types are polypropylene, polyethylene, and nylon. These three materials have different properties that make them suitable for specific applications. 
The type of artificial turf you choose for your project will also affect your pricing:
Polypropylene can cost $2 to $6 per square foot. 

Polyethylene can run from $2.50 to $4 per square foot. 

Nylon turf ranges from $5 to $6.
We've written an entire separate post detailing the ins and outs of artificial turf sub-base options. Class II road base is the most popular base used in artificial turf installation. A mixture of crushed rocks and gravel provides ground stability and allows proper drainage to occur. The price for class II road base depends on your location, but it can be as low as $0.32 per square foot.
Mow strips or bender boards are crucial for separating your artificial lawn, and each roll costs about $15.80. 
The artificial grass infill — which also comes in various types — costs around $11 per 55-pound bag. 
You can choose from the following popular types:
Acrylic-coated sand

Silica sand

Flex sand

Rubber

Envirofill
When it comes to infill options, our recommendation to all our customers has always been Envirofill for many reasons (which you can read about in our separate blog on the subject).
Your total artificial turf cost will also include installation materials like stakes, seaming tape, and glues and nails. You may also opt to install weed barrier fabric to prevent weed growth, typically costing $68.00 per roll of about 1,500 square feet.
Lastly, you have to weigh up miscellaneous costs, which can include your drainage system, turf urine odor remover, and more. These costs depend on what other features you want to add to your artificial turf installation — especially if you have pets.

That's certainly a lot of information to consider! But how do you estimate the costs of turf installation alone? You must know how large your artificial turf area is.
Which leads us to…
2. Total Square Footage of Installation Area
The larger your installation area, the higher your artificial turf cost will be. To start estimating your artificial turf cost, accurately measure the size of your lawn and factor in the curve and slopes.
On average, artificial grass costs from $5 to $20 per square foot. For homeowners with a 500-square-foot yard, you can expect starting prices around $6000 for your artificial turf cost. 
Just remember that the price range will also depend on your chosen materials and other added features.
Moreover, your artificial turf can fit nicely in any shape, but it requires more labor if you have a curvier lawn, especially if you'd like additional features like nice artificial turf edging to highlight the intricacies of your lawn. 
3. Operation Costs
You can make your artificial turf installation your personal project, or you can work with an artificial turf installation company. Choosing the latter will require operation fees. Apart from the materials, you may need to include their transportation to your location. 
However, you won't be required to buy all of the tools required for installation, as most companies provide their own. Additionally, professional artificial turf installation services tend to result in fewer mistakes, and therefore fewer wasted material costs. 
When weighing whether or not to go the DIY route or the contractor route, you should also factor in the cost of time. In other words, do you have the spare time to complete a large-scale installation project, or would it be more worthwhile to save that time and let a professional get the job done?
4. Cost of Labor
As we mentioned earlier, artificial turf installation follows a process, and every step demands labor. From measuring your area and purchasing your artificial grass to finally installing it, you will need someone to do the work for you.
Everything starts with measuring your area, followed by cleaning your lawn and planning your drainage. When your site is ready, it's time to lay the base material and sand. You will also have to water the area — which requires professional skill to avoid washing away your base. Overwatering can cause uneven surfaces, which leads to unsuccessful installation.
Another crucial step is compacting your stones. This helps to level your whole area, ensuring no low spots or puddles. After this, your area is 100% ready to hold your artificial turf.
Labor costs can run from $3 to $6 per square foot in most projects. There are a handful of steps to follow, and that is how labor affects your total artificial turf cost. On top of the process, you also have optional add-ons such as the weed barrier and irregular shaping of the artificial grass.
Conclusion: The Average Cost of Artificial Turf Installation
These estimations for your artificial turf installation can be overwhelming at first, but you have to think about the long-term benefits. Yes, the initial cost can be expensive, but you only install your turf once. With proper care, your artificial grass will last for decades. You get all these advantages without too much need to maintain it!
Like any home improvement project, artificial turf installation requires a budget. Though your initial investment can be pricey, you can rest assured that its long-term benefits make it a cost-effective solution. It is a more practical choice, especially since turf is more durable and sustainable than real grass. 
Your artificial turf cost will depend on many factors. The size of your installation area is the primary consideration as it dictates how many materials you will need. Of course, there are other things to think about apart from your artificial turf costs, such as its durability and low-maintenance features.
We hope our article helped you get closer to your dream lawn. To make your artificial turf installation easier, quicker, and less expensive, get in touch with us today!