The Importance of Dog Kennel Turf
Dog kennel turf is artificial grass that is specifically designed for dogs to use in their kennels. It is often used in pet retail stores, for show dog runs, or simply at home for pet-conscious homeowners.
This specific pet turf comes in different varieties, textures, and colors, making it an incredibly versatile application for whatever you and your four-legged friend desire.
Aside from all the aesthetic options available, the main benefit of this variety of turf is that it provides a safe and comfortable surface for your pet! Dog kennel turf helps keep your dog healthy while staying in its own environment.
Read on to discover the top 5 ways dog kennel turf benefits your pets.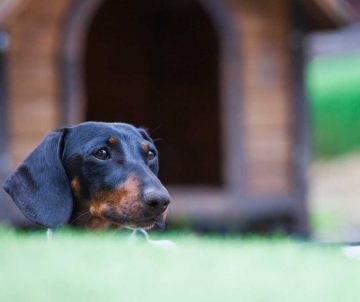 5 Ways Fake Grass for Your Dog Keeps Your Dog Happy and Comfortable
Whether you're leaving for a family vacation or simply letting your dog out to play on its artificial grass yard, the benefits of using fake grass for your pets are almost too numerous to count.
Dog kennel turf prevents your dog from tracking in excessive amounts of dirt

. That's right! The brush-like fabric is not only as soft and comfortable as real grass, but because there's no dirt or soil beneath it, it cuts down on the amount of cleaning pet owners are forced to do as well.

Dog turf is easy to clean.

Seriously, even if your dog has used your pet turf as its own personal bathroom, typically a simple rinse with soap and water will do the trick. No more expensive carpet shampoos to scrub up the odor! The cleanliness of this surface will always keep your dog smiling.

Dog turf eliminates hazards for your dog.

Because our artificial pet turf is as durable as they come, you won't need to worry about your dog digging through and unearthing underground wiring or any other buried hazards. Plus, artificial grass is pesticide and chemical-free!

Dog turf is soft, cushioned, and comfortable.

There's a reason why we frequently see installations at dog shelters. This beautiful, soft surface is easy on the paws and joints of your pooch, which becomes increasingly important as they age.

Dog turf is pest-free.

With alternative surface solutions for your dog kennel, you're regularly worried about ticks, fleas, mosquitos, and all the rest. Artificial dog turf not only keeps these worries at bay but also eliminates the need for nasty pest control sprays that could prove harmful.
How to Choose the Right Grass for Your Dog
It is important to keep in mind that not all surfaces are suitable for dogs, especially traditional backyard surfaces like hard concrete. Some dog breeds will also have specific needs that should be taken into consideration before deciding on the right kind of turf to use in your dog pen.
Our favorite artificial grasses for dogs:
Softlawn Kennel Cut:

This turf is the perfect fit for commercial and residential dog kennels alike. The additional layer of thatch body means the infill you typically see in artificial turf is no longer needed, making this one of the most comfortable dog kennel turfs on the market.

SoftLawn Pro Cut:

Designed with durability in mind, this ultra-tough artificial pet turf is a favorite among commercial pet facilities that experience heavy traffic. The short-cut appearance is hardy and durable,yet this turf refuses to sacrifice on comfort.

SoftLawn Pet Premium

: Used by residences and commercial facilities alike, this turf sets itself apart by utilizing our Ultra XQ yarn. This turf also boasts a textured thatch layer, but short pile height, making it comfy and easy to clean.
How Much Does Dog Kennel Turf Cost?
The cost of dog kennel turf will vary depending on the type of turf you select, the total square footage of your application area, and any obstacles specific to your installation location. For an accurate estimate on installing a section of dog kennel turf, please fill out a contact form and a representative will contact you with an accurate number to budget on.
Consider Investing in a Quality Piece of Artificial Grass For Your Dogs
Artificial grass for dogs has many benefits that can help maintain your pet's health. And, with the variety of materials available, you will find one that is perfect for your needs.
At Xtreme Green of Indianapolis, we've been installing artificial pet turf for dog kennels, pet facilities, and dog runs for years. Our team boasts quick turnaround times, professional-grade installation, and top-of-the-line materials, meaning your investment in dog turf installation will be in good hands.
Contact us today to get started on your dog kennel turf installation!