With the beauty it adds to your space and the practicality it offers, artificial turf has become popular for both residential and commercial spaces.
But what truly makes your artificial turf installation stand out from the pack is the quality of edging you utilize for your project.

After all, it's easy enough to install artificial turf, but the transition between your turf and the other surfaces near your project is what truly makes or breaks the aesthetic appeal of your install.
Artificial turf edging retains the aggregates in the base layer and provides a platform for your artificial turf to be attached onto.
So, what type of artificial turf edging should you use?

We've got your answers plus some creative turf edging ideas for each and every type in this article.
Artificial Turf Edging Ideas for Each Different Type
Paying special mind to the borders of your artificial turf is necessary to guarantee that the synthetic grass will look great and can last longer. It's important to choose the edging that best fits your space, so you can avoid expensive repairs.
Here are some of the best types of artificial turf edging and how they can be useful:
Timber Edging
One of the most popular options in creating an artificial turf border is pressure-treated timber. Many homeowners often choose timber because it's affordable and easy to install. What's more, timbers can be easily trimmed as well, making the installation easier.
However, one thing to keep in mind about timber is that it's not flexible. When installing your timber edging, be careful not to stress the timber to the point of breaking.
One other big drawback? Wood rot.

Similar to wood patios and decks, timber turf edging is more susceptible to the elements that other options on this list. These issues can be mitigated with proper care (like stain or paint), but just be aware you're potentially adding to your maintenance to-do list if you go this route.
Timber has always brought with it a unique aesthetic appeal, and we've found that to be no exception when using it for turf edging. We particularly like it for clients who are going for a more rustic aesthetic, but one other popular timber edging idea is to use them almost like retaining walls, creating an area of turf lower than the surrounding area.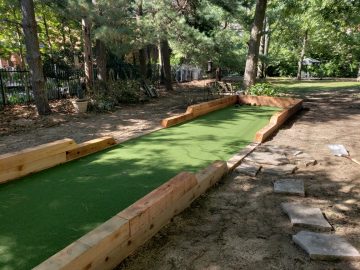 Using timber is also a great idea to use for manufactured lawns with straight edges.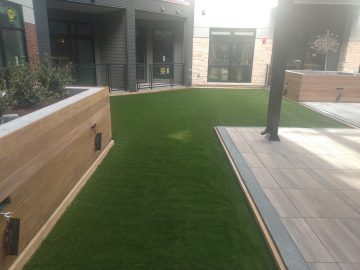 Composite Plastic Edging
Many people think that composite plastic is a step-up compared to lumber because lumber may rot over time due to moisture. On the other hand, composite plastic edging lasts for decades.
Keep in mind, however, that the longevity of composite plastic edging comes with a price. If you choose this option, you may need to pay up to four times higher than pressure-treated timber.
If you are willing to spend more in order to get a more durable artificial turf border, then it's a good idea to choose composite plastic. Aside from its durability, it's also easy to install since you can buy pre-cut sections.
As for composite plastic edging ideas? We love the modern aesthetic this edging features, so pairing it with modern wood cuts and sharp, geometric design will always look great. This edging is also great to create a sharp delineation for curved sections of your yard (like landscaped rock beds).
Sleepers
Just like timbers, sleepers are also pressure-treated to make it more durable. They are a popular option due to their unique appearance, which helps in making your lawn stand out.
Sleepers also provide the sub-base material with suitable edge restraint. At the same time, the perimeter of the artificial turf will also have a rigid anchoring platform.
However, proper maintenance is needed for sleepers to ensure that their appealing look will remain for as long as possible.
Since sleepers have such a unique and stunning look, we love when installations have us stack sleepers to create raised flower beds in gardens or lawns. These are also your best bet if you're looking for bocce ball courts or putting greens that stand out from the terrain.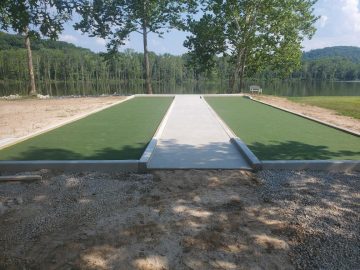 Steel Edging
Steel edging provides you with the ultimate amount of durability, as well as some surprising flexibility, giving you a quicker and easier installation process. If you're looking for a "set it and forget it" edging option, this may be the choice for you.
Due to its flexibility, you can shape it to form curves. It's an ideal option if your lawn does not have straight edges.
However, similar to composite plastic, this option is also more expensive. If that's not an issue to you, then it's a good idea to go with this option.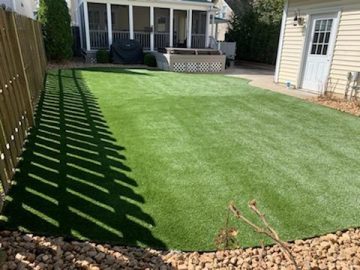 Bender Board
Bender board is affordable, lasts a long time, and (as the name implies) is insanely flexible.
If your artificial turf installation features a ton of curved edges, you can save yourself a lot of hassle by using bender board for the edging.
One of the main features of a bender board is its design. Despite being made with plastic, it has a textured design that mimics the appearance of timber.
We love recommending this option for the DIY crowd, not only because the ease of installation but also because it mimics the desirable aesthetic of timber without much of the legwork required with its upkeep.
You can easily order bender boards online or purchase them at your nearest home improvement store.
Brick and Stone
Using brick or stones is another popular option for an artificial turf border. It is long-lasting and can add aesthetics to your space.
If you want to separate your artificial turf from flower beds, herb gardens, and other soft surfaces, using brick or block stones would be a brilliant idea. This gives you durable edging that also makes your lawn or garden more pleasing to look at.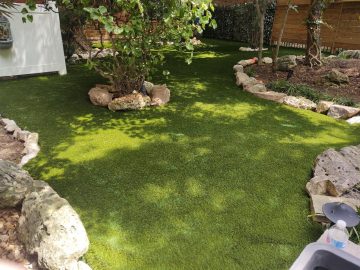 Paving
Paving is a durable and attractive option to use as an artificial turf border. It's also low-maintenance and very easy to clean.
Unlike most of the other options on this list, you can't secure the artificial turf directly onto the paving. A good thing about this, however, is that you can keep the artificial turf the same height as the paving, so there won't be a raised edge.
It's a great idea to use this artificial turf border if your lawn area is already surrounded by paving. Paving is a great option for public venues and larger areas as well, which is why this is the most common choice for sports fields, pools, arenas, or any other public space.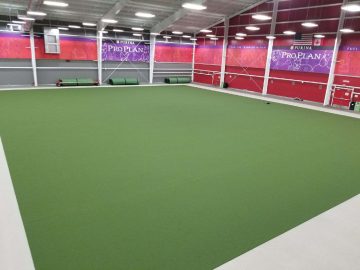 Rubber Edging
Unlike all the other options in this list, rubber edging is merely a cosmetic finishing touch for your artificial turf. It cannot fulfill the functions that other artificial turf borders provide, such as containing the aggregates used in the base. Rubber edging can only hide the edge of the artificial turf, preventing people from tripping.
Due to its characteristics, using rubber edging is not advisable for residential properties or any outdoor settings.
However, it would be a good idea to use this edging option for indoor or temporary installations, such as for parties and other gatherings.
It's also good for commercial settings like showrooms and indoor playgrounds.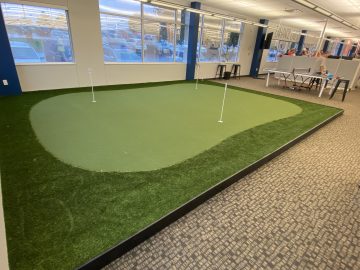 How to Install Artificial Grass Edging: Step by Step
The exact process of installing artificial turf edging depends on what option you decide to choose. In most cases, here's how you can install artificial turf edging:
1

. Lay down your edging

all around the area where you'll put the artificial turf. It would be great to ask another person for assistance, especially if your lawn has curves.

Start putting stakes outside the perimeter of the edging

. Make sure that the stakes are a little bit below the top edge. For every four feet, we recommend that there should be at least one stake.

Secure the stakes by using galvanized screws.
Lightly compress the soil outside of the edging's perimeter

. This will secure the artificial turf border much further.

Using a simple box cutter,

trim the outermost part of the artificial turf.

Make sure the cutter is sharp so that the cut will be clean.

Once everything's done, you can now

secure the artificial turf at the perimeter.

Depending on the border type you use, you can either use glue, attach it directly onto the edging, or secure it directly onto the ground. Either way, make sure to use a carpet kicker to remove any creases and wrinkles.
Contact Xtreme Green for Artificial Grass Installation
Experience the best artificial turf installation in St. Louis with Xtreme Green Synthetic Turf. Our team consists of some of the best professional artificial turf installers in St. Louis, allowing us to deliver exceptional service.
We are dedicated to providing you with innovative design and seamless synthetic grass installation. You can trust that we will only install high-quality artificial turf products, giving you realistic and alluring synthetic grass lawns.
For all your artificial grass installation needs, contact Xtreme Green Synthetic Turf by calling (314) 241-8873.