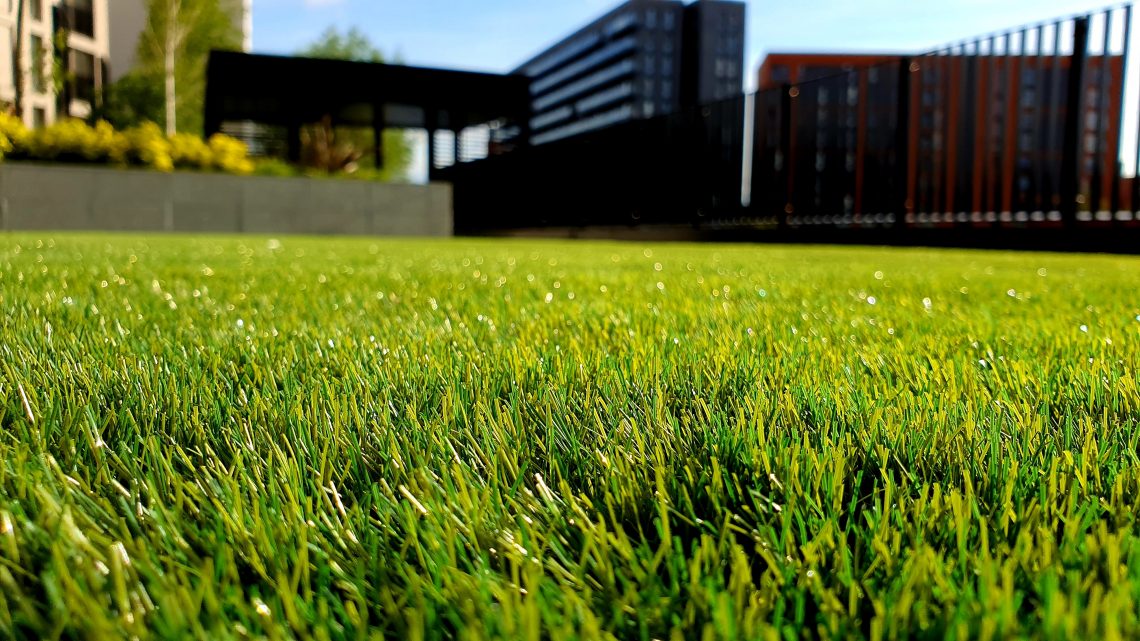 The installation of artificial grass for your lawn is just the beginning for your beautifully manicured property. To keep your turf looking as nice as it does on installation day, you need to know how to maintain it. 
One of the most essential tools to achieve this are power brooms for artificial turf. This post will walk you through why they're so valuable as well as give you some of the top artificial turf power brooms available in 2022. 
How Artificial Turf Power Brooms Can Help You Maintain an Amazing Lawn 
What's a power broom? Simply put, a power broom is a broom with a motor. It works the same way as a rake or manual broom but with less effort and elbow grease. 
Using a manual artificial turf brush can fluff up your turf blades, but it doesn't offer the same level of deep cleaning as an artificial turf power broom. This equipment can help you maintain an amazing lawn by brushing the synthetic fibers of your lawn while simultaneously setting infill down at the base.
 A power broom for artificial turf can remove lodged debris, pet hair, and anything else that may be weighing down the grass and blocking drainage in your yard.
The Benefits of Power Brooms for Artificial Turf
The primary reason to use an artificial turf power brush is to maintain your lawn. It helps with defibrillation, which is the process of brushing the grass blades in opposite directions. Doing this makes the turf fibers stand sturdier and tugs the internal thatch upwards, giving your lawn a more plush appearance. 
Aside from boosting the visual appeal of your yard, these are the other benefits of an artificial turf power brush:
Cleanliness 
A power brush can remove debris, leaves, and pieces of trash in between the turf blades. We recommend using this tool with an organic cleaning solution to eliminate traces of urine, feces, and vomit from your property. This is crucial if you have pets, since these types of waste contain bacteria that can lead to adverse side effects on your furry friends. 
Longevity
Using your power broom properly will help your turf last longer by fluffing up and restoring matted areas of your lawn. 
However, you should still be careful; it can do more harm than good if you don't check the status of your turf first. 
For instance, sweeping over loose fibers can lift or wrinkle a particular section, which would necessitate repairs for that portion of your yard. Damaged or worn blades also get easily ripped from the base when you use a power broom for artificial turf. 
Moreover, over-defibrillation or "over-brooming" your lawn can affect its longevity, leading to matted areas, split blades, and excessive wear.
What to Look For in Artificial Turf Power Brooms Before Buying One 
When looking for an artificial turf brush machine, you should consider the following factors: 
Capacity 
A power broom with a larger capacity can help you cover a wider area and remove tons of debris. We recommend looking for a wide sweeper with a large container for storing leaves and pieces of trash. There are power brushes that are lightweight but still have a large capacity. 
Power Source 
Some artificial turf brush manufacturers create 100% electric power brooms. These typically charge on 110V outlets. They have the shortest run time due to their limited battery capacity, but you can look for corded machines for a constant supply of power. 
On the other hand, you can find gas-powered machines, which are more powerful and can cover a wide range of areas. However, these tools can be noisy and heavy. Plus, they release fumes that can harm you or your household. Your wallet will also be hit harder with any fluctuation in gas prices. 
Additional Attachments 
You should also consider the additional attachments that you can use in the power broom. Some accessories allow you to brush snow away so you can utilize the machine in any season. 
Durability 
You want a power brush that can last a long time. Check the reviews of people who've bought the tool and consider the manufacturer's reputation as well.
User-Friendliness 
Lastly, check how easy or intuitive the machine is for you. You should be able to operate it with ease with simple controls. We suggest trying out the power broom in person before purchasing it.
The Best Power Brooms for Artificial Turf Available 
In our opinion, these are four of the best artificial turf power brooms available on the market: 
This artificial turf power broom is a two-cycle gas/oil mixture hand-held machine that can help you clean your lawn and walkways. It comes with a 600mm-wide nylon brush to clean light debris, such as loose dirt.
It's equipped with a 2.3HP, 1700W, 52cc, 2-stroke air-cooled motor EPA engine with a 1:25 two-cycle gas/oil mixture ratio. Its power capacity is 1.7kW / 2.3hp, and the tank volume can carry up to 1000ml.
The Futchoy yard sweeper is a 1.7hp device with a two-stroke petrol engine. It comes with a 60-cm sweeping roller that removes leaves and dirt with ease. This feature can also help you clear snow from your lawn or driveway in winter. Additionally, you get 600mm universal brushes that can clear your turf. This power broom has a tank capacity of 1.2 liters and an engine power of 1.25kW / 1.7hp.
This artificial turf brush machine from Turfmatic is 100% electric with a power capacity of 1500W. It has a working width of 600mm and weighs 18kg. The brushes are made of twin-drum heavy-duty nylon and have a full width of 600mm. 
This electric cleaning brush has a powerful 1600W motor. Nonetheless, it's lightweight, weighing only 13.3kg for your convenience. It also has five adjustable sweeping heights, which can go deeper to remove debris from the root of your turf.
You can enjoy a 380mm working width to cover a significant area of your yard in no time. There's also a large 45L collection bag to store leaves, twigs, and other debris and minimize cleanup while sweeping.
Takeaway
An artificial turf power brush is useful to keep your lawn looking beautiful. It helps fluff up the grass blades in your yard to give it a more plush appearance. Just make sure that you're considering all of the features of a power broom before you decide to make the leap and purchase one.