Why Artificial Turf?
Artificial turf is a surface designed to replicate natural grass. We believe it's such an amazing surface solution because it can be used both indoors and outdoors. It's an especially great alternative to outdoor grass if you don't want to maintain a lawn or if you live in a place where it's hard for a lawn to grow.
Artificial turf is also suitable for households with pets because there's no worry about potential allergies from animal dander or pollen from plants.
However, artificial turf has found a nice niche in sports surface applications as well! Artificial turf is often used as playing fields, training grounds, or even tennis and bocce ball courts. In this way, athletes can enjoy their favorite sport or training program without having to worry about getting injured on an uneven surface, ruining sections of natural grass, or sacrificing performance during their competition.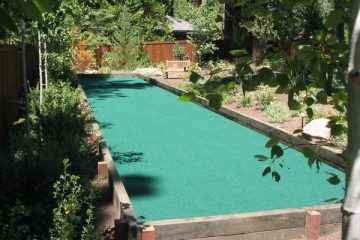 5 Reasons Why Artificial Turf is the Perfect Solution for Your Bocce Ball Court
Synthetic turf bocce ball courts are quickly rising in popularity for those who enjoy the game, and it has the leg up on other bocce surfaces like sand, rubber, or natural grass courts for a variety of reasons.
Here are 5 reasons why synthetic bocce ball turf is the perfect surface for your court:
Reduced Maintenance Time:

Artificial turf requires less maintenance than grass, as it doesn't need to be watered or fertilized. Required upkeep between games, like raking over a sand court, is completely avoided as well. All of this means that you will save money in the long run after installing synthetic turf on your court.
Resistant to most weather conditions:

This includes heavy rain and snow.

The drainage systems inherent with every artificial bocce court install ensure that the effects of weather on your court are minimized. Rain outs and cancellations will be a thing of the past, since artificial turf does not get waterlogged or muddy.

High Performance, True-Roll Surface:

The fake grass blades on our bocce ball turf options have been created with performance top of mind. Featuring a "true-roll" compositional makeup, you'll never scratch your head at irregular rolls or velocity while you're playing. Remember, these are surfaces that are trusted by PGA professionals!

Unmatched Durability:

This is perhaps the greatest benefit to artificial turf: it never wears down! Grass or alternative bocce surfaces are susceptible to wear and tear after frequent use. Because artificial turf is inherently hardy, you won't have to worry about your investment degrading over time. Install your bocce court once and enjoy it for years to come!

The Seams Are Virtually Invisible

Going hand in hand with the previous point, the aesthetic appeal of bocce ball courts simply cannot be beat. Plus, the fact that it stands the test of time means it will be looking its best years down the line, where other surfaces will begin to fade and degrade.
What Are The Best Artificial Turfs to Buy?
Artificial turf is getting more popular in recent years. There are many companies that offer this product, but, not all of them are created equal. So what are factors to consider when one is choosing an artificial turf?
You want to buy your turf from a trusted, transparent brand with years of experience of installing bocce ball courts.
At Xtreme Green, we have a wide selection of artificial turfs, each with different benefits and drawbacks. Some are better suited for bocce ball courts than others, so we've put together a quick list of our favorites:
For a thicker, hardier polyethylene design, you can't go wrong with True Roll PE. The 3/8 inch pile height allows for smoother ball rolls with more control.
The best-textured nylon surface available on the market today! Offering natural roll properties and realistic speeds no matter the sport or ball used. Performs best with ceramic infill but can be used without it as well.
This is an incredibly versatile turf that's used for a variety of applications (not just putting!), mainly because it features a consistent roll. Featuring a quarter-inch pile height backed by 5mm foam, this turf has no perforations so it is recommended for indoor use only.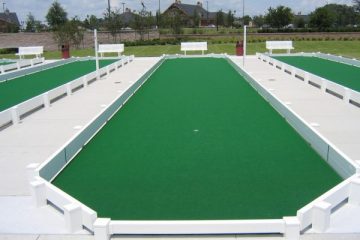 Conclusion: Start Using Artificial Turf Today and Supercharge Your Bocce Ball Game
Xtreme Green Synthetic Turf has been designing and installing bocce ball courts throughout the Midwest for years now. If you're interested in a bocce ball court installation, we would love to help guide you through the process and install the court of your dreams!