If you read this blog, you've likely stumbled across many iterations of the word "synthetic turf". There's "fake grass", "artificial turf", and "artificial grass", just to name a few. Up until now, you might have even thought those terms can be used interchangeably, but believe it or not there's a big difference between artificial turf and artificial grass, and this blog is here to help you clear up the confusion!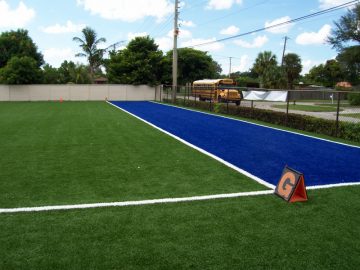 WHAT IS ARTIFICIAL GRASS AND WHY SHOULD YOU CONSIDER IT?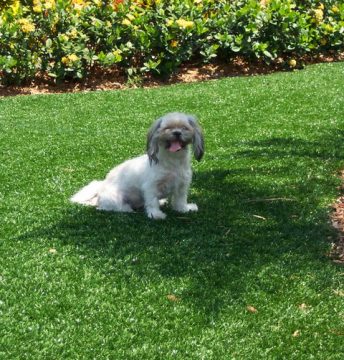 Artificial grass is a low-maintenance, water-efficient surface compared to natural grass that has become increasingly popular in recent years. You can find it everywhere, from residential and commercial properties such as hotels, malls, and restaurants to recreational spaces like dog parks and sports fields!
Artificial grass usually consists of polyethylene (PE) or nylon is woven into a mesh that sits on top of an infill system. The most common fillers are silica sand, rubber crumbs, or recycled tires to provide the surface with long-term durability and extra cushioning for playtime!
It would be best if you use artificial grass for applications such as:
THE BENEFITS OF ARTIFICIAL GRASS
A significant benefit of artificial grass is the instant gratification you get by installing it! Some other perks include:
No water bills – artificial grass surfaces do not require constant watering like natural turf
No fertilizing – artificial grass does not need to be fed with chemicals like natural grass to maintain its color and healthiness over time! Instead, the only thing you have to worry about is keeping it clean.
Minimal maintenance costs – Artificial Grass does not require total lawn mowing, fertilizing, seeding, or other time-consuming maintenance procedures, unlike natural grass! Instead, you will only need to consider infill changing and spot cleaning.
It's environmentally friendly! – The benefits of artificial grass include less chemical use, no pesticide runoff into creeks or streams, and it does not require any watering! All good things for the planet
Zero pesticides – No chemicals are required to maintain the health of artificial grass, so you won't need to worry about your pets or kids coming into contact with harmful pesticides!
Reduce injuries on sports fields – Provides an extra incentive for athletes to play on your surface – plus parents love knowing their kids will stay safe while playing on a soft, cushiony surface!
Longer Lifespan – The average lifespan of artificial grass is about 15 – 25 years, while the typical life expectancy for natural grass depends on how extensive your maintenance is.
WHAT IS ARTIFICIAL TURF AND WHY WOULD YOU CONSIDER IT?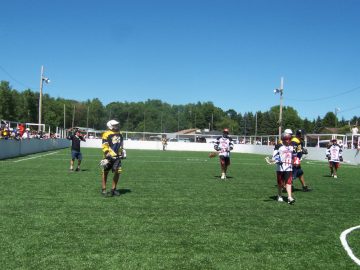 Artificial turf is a product similar to artificial grass, but it has shorter fibers and may include rubber infill, sand infill, or be a combination of both. It is designed to look, feel and play better than natural grass!
According to professional athletes, it has made a significant impact in the sports industry as it offers more realistic playing conditions than rubber or sand-infill surfaces.
It would be best if you used artificial turf for applications such as:
Sports Fields – soccer, football, baseball are just a few sports that benefit from this type of surface!
Putting Greens – turf provides an excellent putting surface for golfers everywhere
Recreational Spaces – dog parks or playgrounds are perfect places to consider artificial turf! These spaces honestly fall in both category and can be dependent on the amount of traffic you expect to receive.
THE BENEFITS OF TURF
Artificial turf is an excellent alternative for high-traffic areas such as sports fields and playgrounds because it can stand up to frequent, intensive use! Some other benefits include:
Can handle heavy traffic – artificial grass can withstand an impressive amount of wear and tear from kids playing or athletes practicing on your surface while also providing a uniform look and feel.
No water bills – artificial turf can save you tons in water bills! This makes it an excellent alternative for residential or commercial properties that do not have the time, money, or desire to check their sprinkler systems constantly.
Minimal maintenance costs – Say goodbye to your lawnmower! Artificial sports fields can save you tons of time and money with minimal maintenance costs than a natural grass field.
It's environmentally friendly! – The benefits of artificial turf include less chemical use, no pesticide runoff into creeks or streams, and it does not require any watering! All good things for the planet
Longer Lifespan – Artificial turf can last up to 20 years on a residential or commercial property.
Save Time – Maintaining your artificial turf is as simple as sweeping! No raking, mowing, watering, or fertilizing is required
SO WHICH ONE SHOULD YOU CHOOSE?
Artificial grass has gone through some major innovations since its inception! It is no longer just for putting greens or dog parks. It's being used in all kinds of applications.
If you want an alternative surface that looks and feels more like natural grass but don't want the hassle of watering, mowing, fertilizing, etc., consider artificial grass!
However, if you want a surface that professional athletes on sports fields can use (or simply anticipate a lot of foot traffic), artificial turf might be the right choice.
The answer to this question comes down to what type of synthetic application you're looking for! Essentially, there are specialized turf products for every application under the sun, so you can choose what product is right for you!
As a general rule of thumb:
WHY SOCCER PLAYERS SHOULD KNOW THE DIFFERENCE BETWEEN TURF AND FAKE GRASS
What are the differences in playing surfaces? With different sports fields everywhere you play, soccer players need to know the difference between fake turf and artificial grass.
Of course, when two similar products look almost identical, people question if they have a difference in performance or quality.
A soccer player playing on a synthetic field will need to wear different soccer cleats than one who chooses natural grass lawn or even rubber infill surfaces. Choosing the wrong type of soccer cleats could lead to serious injury!
Synthetic turf soccer fields are excellent for soccer players who need to practice or play on a uniform, consistent surface that will stand up to heavy-duty use. However, because these surfaces are designed specifically for soccer, the player needs to be sure they have chosen the correct type of soccer cleats!
ARTIFICIAL GRASS VS. TURF FAQS
WHICH IS BETTER ARTIFICIAL TURF OR GRASS?
It all depends on what you plan on doing in the space.
If you are looking for a soccer field that will be the center of attention, artificial turf is your best bet. However, if you want to have an aesthetically pleasing yard with grass that looks natural, then go with real grass!
IS IT CHEAPER TO TURF OR ARTIFICIAL GRASS?
The real question is: What do you plan on doing in the space?
If you are looking for a commercial or sports field, artificial grass will be cheaper because it is designed to withstand heavy wear and tear. However, if you want an aesthetically pleasing lawn that won't require any maintenance, go with artificial grass! Both of these cost around the same for installation.
WHY IS ARTIFICIAL TURF BETTER THAN GRASS?
Artificial turf is better than grass if you look for a uniform, consistent playing surface that will withstand heavy use. If you want a minimal-maintenance yard that looks and feels like natural grass, then go with artificial grass!
IS ARTIFICIAL GRASS WORTH THE MONEY?
Artificial grass is definitely worth the money if you want a lawn that looks and feels like natural grass without any maintenance. However, it might not be worth the front-loaded installation expense if you look for a more cost-effective alternative to turf or natural grass!
HOW LONG WILL ARTIFICIAL GRASS LAST?
Artificial grass will last for around 20 – 25 years. In terms of cost-effectiveness, both turf and artificial grass will stay about the same amount of time.
FINAL THOUGHTS
As you can see, the best type of synthetic application boils down to your personal preference, whether that be turf or artificial grass!
If you are looking for a performance playing field, go with the turf.
If you are looking for an aesthetically pleasing lawn, go with artificial grass!
For more information on artificial grass and turf applications, contact us today!