Artificial Turf for Patios, Decks, and Rooftop Areas
Polish Up Your St. Louis Patio Area With A Synthetic Turf Installation
Our artificial patio turf applications will leave you wondering why you ever tried anything different. Made from highly durable materials, our patio turf products have added body to maximize comfort without sacrificing the aesthetic appeal of your outdoor oasis.
The benefits of patio turf are many, including lower maintenance on your deck, boasting pet and environmentally friendly materials, and unmatched durability that stands up to even the toughest weather wear.
Proudly servicing customers across the Greater St. Louis area, let Xtreme Green manage all phases of design and construction for your project.
Xtreme Green Patio Turf Products
ADVANTAGES OF SYNTHETIC TURF PATIOS
Unrivaled barefoot comfort
Stands up to years of weather wear
Safe, soft surface for pets and children
Increases aesthetic appeal and property value
Decreases maintenance requirements
Clean and can be cleaned easily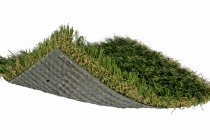 SoftLawn® Prime Fescue is our newest offering using the Mini-Diamond stalk yarn.
Yarn Type: Polyethylene
Total Product Weight 62oz per sq. yard
Secondary Backing: SilverBack ™ Polypropylene
Pile Height: 1 3/4″
Roll Width: 15 ft.
Perforated: Yes
Color: Field/Olive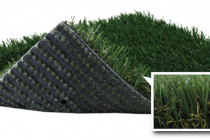 The four-color blend of this surface provides an authentic look and feel that resembles a natural grass.
Yarn Type Polyethylene/Polypropylene
Total Product Weight 87 oz. per square yard
Secondary Backing SilverBack™ Polyurethane
Pile Height 1 1/8″ (+/- 1/8″)
Roll Width 15′
Perforated Optional
Color Field with Forest/Olive Thatch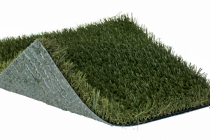 SoftLawn® Bermuda Blend is a signature patio turf product with a thatch layer for added body, durability, and comfort.
Yarn Type Polyethylene/Polypropylene
Total Product Weight 87 oz. per sq. yard
Secondary Backing SilverBack™ Polyurethane
Pile Height 1 1/4″
Roll Width 15′
Perforated Optional
Color Field/Olive
Frequently Asked Questions
Is Artificial Turf Waterproof?
Yes, to an extent! The materials that compose all artificial turf products are water-resistant, but that water still has to flow somewhere! That's why perforations and water flow are important to consider when installing artificial turf, so you can avoid messy puddles.
Can You Put Artificial Turf on Concrete?
While we recommend installing some sort of sub-base for every synthetic turf installation, no matter the application, it is still possible to install artificial turf on concrete. This install will require some artificial grass adhesive, and you must be sure to clean the surface prior to the install.
For added comfort and prolonged durability, you really should consider adding a sub-base, though!
How Expensive is Artificial Patio Turf?
Unfortunately, the answer to this question is: it depends. There are a number of different factors that will affect the total price of your patio turf installation, including the total surface area of your project, the variety of turf product you choose, and any other obstacles specific to your location, such as removal of existing products.
How Do You Clean Fake Grass?
Artificial patio turf is famous for its virtually maintenance-free properties, but you will still have to clean it from time to time. A simple sweep with a broom will help clear up debris, while a soap and water mixture will clean up any stains more often than not. For more serious upkeep, there are specialized turf brooms and artificial grass cleaning solutions.