Professionally Installed Artificial Grass for St. Louis Pools
Low-Maintenance Splash Turf Improves Poolside Safety
Artificial grass around swimming pools has boomed in popularity among our many different forms of synthetic turf installations for a number of reasons:
Low maintenance requirements
Extreme durability to withstand heavy traffic
Provides extra traction compared to other slippery surfaces
Improves pool and deck safety
Similar to artificial patio turf, our artificial pool turf is made from highly durable material to create a low-upkeep poolside that lets you sit back and enjoy the summertime.
Transform your pool deck area into a manicured, artificial grass surface that looks good and keeps you comfortable year-round.
Our pool turf installation crew boasts years of experience and completes the install process quickly and efficiently, all while respecting your home and your privacy!
Proudly servicing customers across the Greater St. Louis area, let Xtreme Green manage all phases of design and construction for your poolside project.
The Advantages of Fake Grass Around Pools
Unrivaled barefoot comfort
Provides additional traction & poolside safety
Stands up to years of weather wear
Safe, soft surface for pets and children
Increases aesthetic appeal and property value
Decreases maintenance requirements
Clean and can be cleaned easily
Excellent drainage properties
Xtreme Green Poolside Turf Products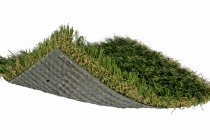 SoftLawn® Prime Fescue uses a Mini-Diamond stalk yarn system, making it a perfect turf to install around your pool. Color variations come in a traditional field green or pleasant olive hue.
Yarn Type: Polyethylene
Total Product Weight 62oz per sq. yard
Secondary Backing: SilverBack ™ Polypropylene
Pile Height: 1 3/4″
Roll Width: 15 ft.
Perforated: Yes
Color: Field/Olive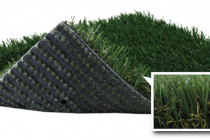 EZ Play synthetic grass has been designed with both the parent and the child in mind. The four-color blend provides an authentic grass look while boasting added traction to prevent your child from slipping and falling.
Yarn Type Polyethylene/Polypropylene
Total Product Weight 87 oz. per square yard
Secondary Backing SilverBack™ Polyurethane
Pile Height 1 1/8″ (+/- 1/8″)
Roll Width 15′
Perforated Optional
Color Field with Forest/Olive Thatch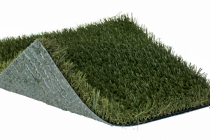 SoftLawn® Bermuda Blend is a signature poolside turf product with a thatch layer for added body, durability, and comfort. This product will keep your pool deck pristine for decades!
Yarn Type Polyethylene/Polypropylene
Total Product Weight 87 oz. per sq. yard
Secondary Backing SilverBack™ Polyurethane
Pile Height 1 1/4″
Roll Width 15′
Perforated Optional
Color Field/Olive
Frequently Asked Questions
Is Artificial Turf Waterproof?
Yes! The materials that compose all artificial turf products are water-resistant, but that water still has to flow somewhere. That's why perforations and water flow are important to consider when installing artificial turf, so you can avoid messy puddles.
Can You Put Artificial Turf on Concrete?
While we recommend installing some sort of sub-base for every synthetic turf installation, no matter the application, it is still possible to install artificial turf on concrete. This install will require some artificial grass adhesive, and you must be sure to clean the surface prior to the install.
For added comfort and prolonged durability, you really should consider adding a sub-base, though!
How Expensive is Installing Fake Grass Around Your Pool?
This answer depends on a number of things, including the total surface area of your project, the variety of turf products you choose, and any other obstacles specific to your location, such as the removal of existing products.
The best way to find an accurate estimate for your specific pool turf installation is by filling out our quick-contact form,
How Do You Clean Fake Grass?
Artificial patio turf is famous for its virtually maintenance-free properties, but you will still have to clean it from time to time. A simple sweep with a broom will help clear up debris, while a soap and water mixture will clean up any stains more often than not. For more serious upkeep, there are specialized turf brooms and artificial grass cleaning solutions.