Baseball is a game where players are constantly in motion. They need to run, slide, turn, and react quickly. Their hands must be nimble enough to catch the ball or scoop up a grounder cleanly before it can roll too far away from them. The ability to swing the bat at just the right moment is crucial because that's how they hit home runs!
The best way for baseball players of all levels to train themselves for these skills is by practicing on an artificial turf surface in batting cages because it's incredibly durable yet feels soft and comfortable when you're batting on it. It also provides much more traction than regular dirt, so you'll have better control over your movements while your feet are planted. This article will explore the benefits of artificial turf in more detail.
WHY IS BATTING CAGE TURF IMPORTANT?
Artificial turf has far more benefits for baseball players and organizations than natural grass. It takes less time to maintain, lasts much longer, is less dusty than dirt, and plays almost exactly like the real thing. With all of these conveniences offered by this type of floor surface, it's easy to see why batting cage turf is essential.
Baseball and its players need more and more practice as the game evolves. If you want your players to value practice time like never before, invest in batting cage turf that will give them every opportunity to excel with real-feeling footing that allows you to pivot better than natural grass.
THE HISTORY OF BATTING CAGES AND WHY THEY ARE SO POPULAR TODAY
Baseball is a great American pastime. The first recorded instance of a batting cage was in 1907, shortly after baseball's inception, when Wellington Titus invented it shortly after patenting the backstop. However, the batting cage didn't take off until recently, when advancements in technology made them more feasible for at-home players with pitching machines. Nowadays, there are many batting cages to choose from, but their primary purpose remains training baseball players' reaction time and aim.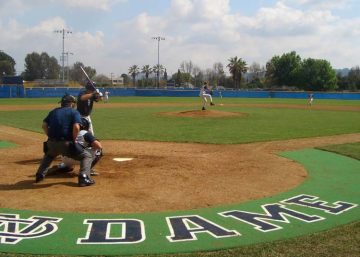 HOW ARTIFICIAL TURF IS CHANGING THE FUTURE OF BASEBALL
Artificial turf is changing the way people play and think about baseball. Synthetic turf is used for outdoor sports such as soccer, football, and baseball. The fact it needs less maintenance than natural grass has made it popular in recent years.
Artificial turf is significant for several reasons:
There are fewer injuries on a synthetic field.
Its maintenance cost is lower.
It has a longer lifespan.
This means that facilities can invest in an artificial field without worrying about future costs as much as they would with a natural grass field.
Synthetic turf is the future of baseball. It has made the game safer for players, more accessible to people of all economic levels, and has been a catalyst in the advancement of technology. If you have a batting cage in your area, think about adding a batting cage turf floor to it. Not only will it provide players with much more comfort and better footing, but you'll also be making the game safer for children everywhere.
IS SYNTHETIC TURF RIGHT FOR YOUR BATTING PRACTICE FACILITY?
Synthetic turf is one of the more underrated pieces of sports equipment today, particularly with professional athletes and athletic facilities. This popularity is that many players, even the best ones in the world, comment on how much nicer it is to play on artificial turf. It looks better, feels better, and is more forgiving than natural grass. So if you plan on upgrading your batting practice facility, consider artificial turf for this reason alone.
Many experts also claim that artificial turf is superior for batting practice because it can smooth out your pivot. An expert declared, "Artificial turf is much more forgiving and smooth for pivoting than natural grass. Professional athletes, especially baseball professionals, love this smooth pivot; artificial turf helps them perform better. It is also a lot easier on the feet, which allows players to practice more."
WHAT TO LOOK FOR WHEN SELECTING ARTIFICIAL TURF PRODUCTS
When looking for artificial grass for your batting cages, there are several key features that you need to look for to ensure that the turf is best suited for your needs. For example, when evaluating your artificial turf, you should look to see if the blades are "filled" or "hollowed." In general, natural grass has sharp blades, and they tend to be brittle, while artificial grass is filled and tends to be much softer. The softness of the blades in hollowed-out turf is perfect for those who practice pivoting.
The moisture drainage system is another key feature you want to look for when selecting your synthetic turf for outdoor batting cages. This will sometimes go by the name "porous." This is simply a system of tubes that allows water to drain out of the base material. Without water drainage, the bottom of your cages will turn to mush when it rains and take longer to dry out.
WHAT ARE THE BENEFITS OF BATTING CAGE TURF?
The benefits of batting cage turf are plentiful, the most notable being the safety of the players.
Low Bounce – While baseballs bounce off dirt and sand-covered fields unpredictably, they will not bounce too far off the turf. This makes it safer to play on and more manageable for younger players to intercept balls.
Durability – It can withstand more wear and tear than any other material used to cover a field, saving the organization money in the long run. It is also an excellent choice for organizations looking to find a cost-effective option that looks good.
Fast Drying – We can install this type of artificial turf in areas prone to floods and the like because water naturally drains through the base. This saves organizations from completely replacing their batting cage materials when flooding occurs.
Easy Maintenance – This type of turf is straightforward to keep looking great because it requires little maintenance. It is also simple to clean, making it ideal for facilities with a lot of traffic.
Sound Absorbing – Many people claim that batting cage turf absorbs sound better than other materials, making it easier for players to locate batted balls by ear. This also helps keep the facility quieter and more pleasant for those around it.
Natural Look and Feel – The turf blades are made to look and feel just like natural grass. This is something that most players appreciate while practicing on since it helps keep them comfortable and focused.
Weather Resistant – This type of artificial turf is much more resistant to the elements than natural grass, which can be a massive plus in some areas that experience lots of storms or bad weather.
Easy Installation – ​ This type of turf is simple to install, making it easy for the organization to get started right away.
Cushion and Comfort on the Feet – Artificial turf is much more comfortable than other materials, such as concrete, dirt, or sand. This makes it an excellent choice for batting cages with a lot of foot traffic.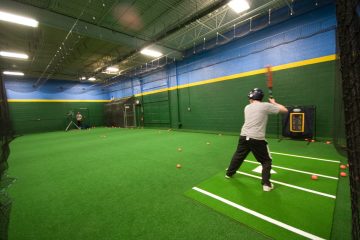 WHAT ARE SOME DOWNSIDES?
While the benefits of baseball batting cage turf outweigh any downsides, You must evaluate some considerations before choosing this synthetic grass. One of the biggest concerns is the frontend cost. Batting cage turf is more expensive than other options available on the market per square foot, although it still saves organizations money over the long run in maintenance costs.
WHAT ABOUT INSTALLATION? HOW EASY IS IT TO INSTALL AN OUTDOOR BATTING CAGE AT HOME?
Every baseball player dreams about having their batting cage in their backyard. It's a child's dream come true, but it doesn't have to cost a fortune or take a lot of time to install a professional-quality cage at home. DIYers and intermediate handymen can do it themselves.
But there's just one thing. Like all DIY projects, it is crucial to plan and prepare everything before you start building your backyard batting cage.
This includes taking care of things like choosing the suitable materials for your framing, net, and turf.
THE BEST TURF FOR A BATTING CAGE
There are many factors to consider when selecting turf for batting cages. The first and most important factor is to make sure you buy synthetic turf as the best type of batting practice surface because it lasts longer and allows players to practice more time before replacing it.
RECOMMENDED TURF BRANDS WE OFFER FOR BATTING CAGES
Here are the best batting cage turf options offered by Xtreme Green to its Kentucky customers:
BATTING CAGE TURF MADE EASY WITH OUR FAQ
HOW DO YOU PICK TURF FOR A BATTING CAGE?
If you are planning on building a batting cage of your own, then there are some fundamental things that you need to consider about turf. Luckily, we have all of the answers you need to know about the different kinds of turf and how it can benefit your cage.
HOW TO INSTALL TURF IN THE BACKYARD UNDER THE BATTING CAGE?
Installing turf in the backyard before you install your batting cage is one of the most important things to think about if you want an excellent cage for years to come. That way, you will have a foundation to put your frame and net over.
HOW THICK IS ARTIFICIAL TURF?
Artificial turf for batting cages typically comes in 5mm, 3mm, 5/8 in or 3/8 in.
CAN INDOOR TURF BE CLEANED?
Yes, you can clean indoor turf as long as it has been laid correctly. Cleaning is simple and should not take a lot of time or effort.
WHAT IS THE BEST TURF?
Our favorite brand is Performance Choice Synthetic Turf. It has the perfect durability, value, quality, and thickness combination.
XTREME GREEN IS THE LEADING PROVIDER OF THE BEST BATTING CAGE TURF SOLUTIONS AVAILABLE IN ST. LOUIS
Our customers are always satisfied with their choices because they are made from high-quality materials, built to last, and offer the best value.
If you're looking for a good batting cage turf, but aren't sure where to start, then we can help you. We have a wide variety of solutions that will appeal to any batting cage facility.
We have a full-time support staff committed to helping you along the way and making sure that everything goes smoothly. They will answer your questions and address your concerns to have everything you need for a successful installation.