What is the Difference Between Rubber Mulch and Artificial Grass for Playgrounds?
Playground owners have been debating between these two popular playground surfaces for years now, but we're here to settle the debate.
The biggest difference between the two? Artificial grass for playgrounds is a much safer surface for outdoor activities. It has been made from a fiber that is much more durable and hard-wearing than rubber mulch. Synthetic turf is worth the extra cost as it lasts longer and provides a safer surface for your family or friends to play on.
Artificial grass has been praised for its safety and durability. However, artificial grass for playgrounds is not without its disadvantages. For instance, it is more expensive than rubber-coated tires to install over natural turf, though playground experts like swingkingdom recognize that the upfront costs are mitigated by lesser maintenance requirements.
Artificial Grass:

Synthetic turf is more expensive, but has better shock-absorbing properties than rubber mulch.

Rubber Mulch:

Old-school look and feel, but can become hazardous if ingested and ages quickly.
Why Playgrounds Should Use Artificial Grass
It's no secret we prefer synthetic turf over all the alternatives, no matter the application. However, playground turf is one area we absolutely pound the table for!

When it comes to children, safety is always the number one priority. Protecting kiddos during the most essential developmental times in their lives, especially during playtime where they discover motor and body skills, is important to us.
Here are the top reasons why playgrounds should utilize artificial turf:
One of the most important things that synthetic turf offers is safety for children in the playground.

Synthetic turf doesn't need pesticides or chemicals

because it is designed with safety at its core, so children are protected from harmful chemicals on the ground they play on.

Synthetic turf is also 100% safe for children and their families because of the s

oft, cushioned surface

it provides, shielding children from hard falls.

Artificial playground turf is also more durable than other playground surfaces

because it's more resistant to weather, wear, tear, and tearing by animals. Owners of synthetic turf can expect it to last decades before needing replacement.

Synthetic playground turf also minimizes the risk of weeds

growing in between layers of natural grass which can lead to uneven wear or tears in natural grass pieces over time.

Playground turf surfaces require less maintenance compared to the alternatives. Gone are the days of weed-whacking or struggling to fit a mower beneath your child's playground. If it needs cleaning? A simple spray down with a hose and soap will likely do the trick.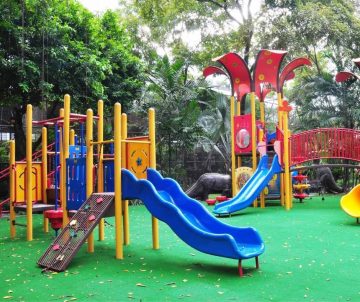 How to Select the Best Kind of Playground Turf for Your Child
If your child is in need of a safe space to play, then playground turf might be the right decision for them. In order to make the best decision for your child, you should look at reviews on different surfaces and figure out which one will provide them with a safe and fun time.
Turf playgrounds are popular among parents because they offer their children a safe and fun time. Whether you have an older or younger child, it is important to buy a safe play surface that won't cause any harm to their health. Synthetic turf has been proven as one of the safest surfaces for kids going back as far as 1974.
Our favorite playground turf options:
SoftLawn Barefoot Comfort

: The name suits this brand of playground turf perfectly. Utilizing a comfortable "messy grass" technology, this turf is so soft you can feel comfortable ditching the tennis shoes. It provides the perfect aesthetic and cushioned combination for any playground.

SoftLawn Bermuda Blend

: Our signature playground product, featuring an added thatch layer that gives this playground turf added body (and added safety!). This turf stands the test of time, and will last through years of heavy traffic as well.

SoftLawn EZ Play (colors)

: Perfect for those who want their playground to be creative. The fun color combinations of this turf will capture the attention of children left and right and have them playing for hours.
How Much Does Playground Turf Cost?
The cost of synthetic playground turf will vary depending on the type of turf you select, the total square footage of your application area, and any obstacles specific to your installation location.
For an accurate estimate on installing synthetic turf under your playground, please fill out a contact form and a representative will contact you with an accurate number to budget on.
Conclusion & Recommendations for St. Louis Playground Turf
Playground turf is one of our favorite synthetic turf installations. We love not only the unique benefits our surface provides playground owners, but the enjoyment that results from it. Trust us, there's nothing better than watching the children bounce around on this comfortable surface for hours on end.
If you're interested in installing synthetic turf for your playground in the St. Louis area, fill out our contact form for a free project estimate. Our professional playground turf installation crew can turn around your project quickly and efficiently.