You missed. You become overwhelmed with anxiety. Too little of an adjustment will cause the ball to fall short of the hole. Too much of an adjustment will cause the ball to cruise past its destination. Take a breath. Line it up. And swing!
You've missed again.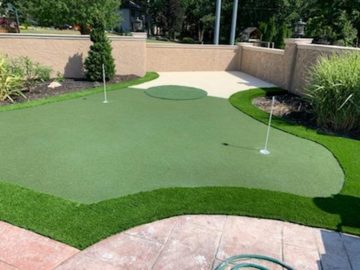 Nobody enjoys the embarrassment of a poor putt attempt. What if traveling to your local course to practice is too big of an inconvenience? Worry no more; there's a solution for you.
Installing an artificial backyard putting green delivers an identical experience of the golf course, but with the convenience of practicing in your own backyard. An artificial backyard putting green such as Xtreme Green's Synthetic Turf provides a "high a performance signature "true roll" characteristic that makes it a favorite among low handicappers, and touring and teaching professionals such as David Leadbetter, the top ranked teaching professional in the world". However, there are more benefits to installing a backyard putting green than pure convenience.
A backyard putting green allows you to practice all year-round. No matter the climate or time of day, it is available to you whenever necessary. It also allows you practice in complete privacy, where you don't have to sweat the pressure of competitors. This gives you the ability to focus your complete concentration on perfecting your putt.
Rather than dedicating hours to maintaining your green's condition, an artificial backyard putting green requires low-to-no maintenance. No watering, fertilizing, seeding, or mowing is needed to keep your putting green in playing condition. Artificial putting greens are durable, able to withstand harsh weather conditions, and last for many years. Because they are not made of natural grass, most artificial greens are also hypo-allergenic, relieving golfers with allergies from their worries.
Although installing an artificial putting green comes at a higher expense, it will save money in multiple ways. You can forget about the cost of a club membership, traveling costs to the golf course, golf cart fees, and more. Eliminating these costs make installing the turf a lot more appealing.
So there you are again, preparing for the putt. Forget being nervous. Since you've installed your own artificial backyard putting green, you've taken the time to understand the right amount of adjustment and you've put in the practice. Now all that's left is to: take a breath, line it up, and swing!