As an avid golfer, you may be looking for ways you can increase your time on putting greens to improve your short game for 2022. One desirable option is to install a custom-designed synthetic turf green in your own backyard, allowing you to practice your technique and skip the green fees whenever you have a moment to spare.
But how much does a backyard putting green cost?
Since no two St. Louis backyards are identical and no square foot measurement is the same, there isn't a one-size-fits-all backyard putting green cost.
Variables like terrain, grading, and soil type can differ greatly throughout the Midwest, and the greater St. Louis area overall, which can affect the final putting green cost.
That said, we don't think you'd want it any other way. After all, why would you want a cookie-cutter typical putting green instead of the perfect custom putting green application for your St. Louis property?
However, we understand the need to plan and budget for the backyard putting green you desire. To ensure you feel confident in your decision to install a golf green, we've put together this list!
5 factors that affect the installation cost of putting greens in 2022.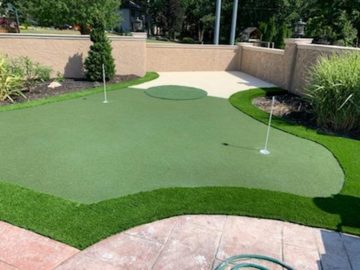 1. Type of Putting Green
When designing your home built green, you need to determine the ideal putting surface. There are three different options for you to choose from, each of which comes at varying price points.
The most common choice for backyard putting greens is synthetic turf, which offers a high-quality appearance and a softer surface that is ideal for putting and chipping. You can also opt for natural bermuda grass which cuts down on the cost of installation but requires more maintenance overall. Each option affects the total cost of your project, which is why it's important to determine what is most important for your putting green installation.
We find that home synthetic putting green installation ends up paying for itself in the long run, due to the low maintenance costs like the fertilization, aeration, mowing, and watering required for natural grass putting greens. Plus, with artificial turf, you can always switch up your landscaping design to something more lavish when you're not putting.
Why deal with the maintenance of your backyard putting green when you could be practicing your short game? Discover what type of putting surface is right for you and inquire about the total cost of your project today.
2. Size of Putting Green
This shouldn't come as a surprise, but the size of your backyard putting green will impact the overall cost of installation. Yard sizes and overall square foot of the landscape determine how large your putting green can be — often the larger your backyard is, the lower the cost per square foot the synthetic turf will be.
The putting green size will vary depending on terrain, grass coverage, and the structure of your home. Typically a smaller backyard will require a minimum size of 400 square feet, while larger backyards can accommodate bigger artificial putting greens of 1000+ square feet of coverage.
When we give you a professional installation estimate, we'll ask questions like: Do you want your entire backyard to be a putting green? Are you looking to create a smaller square foot area of artificial grass dedicated to your short game without taking over the entire backyard? Do you want to create a chipping green in addition to the putting greens? These questions help us determine the ideal size of your backyard putting green, which helps us formulate an accurate quote for you.
We'll also come up with design drawings and put together conceptualization ideas for your tour-quality putting green so that you can see what it looks like and determine any changes to your landscape.
Whether you're looking to create real-size golf greens or opting for a smaller green area, there is a lot of versatility when it comes to the size of your turf putting green that is dependent on the average backyard size. To accurately determine the cost of your greens installed, you will need to account for the square footage of the area where you are building the putting green and how much artificial grass you will need.
Already know the square footage you're going for? Submit our contact form to get started on a synthetic putting green estimate!
3. Site Preparation
Putting green installation isn't as simple as ripping up the natural grass and laying down synthetic turf in its place. There is a lot of prep work required to prepare the site, ensuring you have a high-quality install that leaves you satisfied for many years to come.
Before the professional installation process begins, we will prep the ground by turning the soil, leveling the area, and determining the putting green boundaries. You may even need to add fill dirt to help even out the area and create the ideal base for your artificial turf.
To prepare the ground, we will use a variety of tools and equipment. If any obstacles make it difficult for the required equipment to access your backyard, you may find yourself dealing with slightly higher costs as it will take longer to complete the job.
TERRAIN
The design and layout of your backyard can have a dramatic impact on the cost of putting green installation as well as the end result. The landscape around your property will play a key role in determining how much grading is required, which affects the final project materials list. This includes the height and slope of the property, as well as any structures that may be present and potential drainage issues.
SOIL TYPE
Both natural grass greens and artificial putting greens will require soil preparation for a successful installation. The type of soil you have – either sandy or clay – can greatly impact the cost of your project. In some cases, we may recommend a different type of putting green as it will perform better than one type of soil.
4. Additional Features
Although incorporating additional putting green features doesn't affect the actual cost of the artificial turf, it will impact the overall cost of the project. Determine if you are going to install a standard putting green that allows you to improve your putting and chipping, or if you want to enhance your golf game by adding in obstacles such as water hazards or sandpits. You can also add fringe and fairway turf around the outside of the golf green. These additional features will impact the design of the project, as well as the necessary materials to bring your vision to life.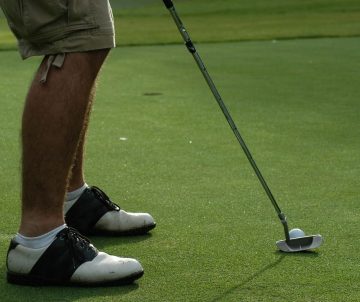 5. Design & Build Materials List
The installation list is the most comprehensive and extensive part of an artificial turf estimate. It includes all the materials required to complete your project, including ground cover, infill, and synthetic turf.
The putting green installation estimate is where we will break down the individual components you need to complete your backyard putting green. Every project has different needs, so it's important for us to understand exactly what materials your synthetic turf putting green will require before providing an estimated cost.
We will need to know the surface area you wish to lay, the size of your putting green, and location. From there, we can complete a thorough design with a build materials list that makes it easy for you to visualize your project from start to finish.
When it comes time to provide an accurate cost estimate for putting green installation in St. Louis, we will consider all of the most important aspects that come into play. We will get an accurate square-foot measurement of your putting green size, determine the type of soil you have, and highlight any additional features that will affect your project. We use a variety of high-quality materials to provide our customers with a synthetic putting green they can enjoy for years. Artificial grass is made of complete monofilament fibers and blends in with the natural environment and lasts for years. This is the reason why we will provide you with a variety of artificial grass to choose from as well as synthetic putting greens that meet your needs.
The Final Verdict: What's the Cost?
While there is no cookie-cutter price for installing an artificial grass green in your backyard, you can expect to pay anywhere from $18 per square foot to $25 per square foot.
Compare that to natural grass that can cost around $9 per square foot to $15 per square foot installed, but costs more in maintenance and headache.
Taking that into account, as well as the factors mentioned above, you'll be able to get an estimated synthetic putting green cost.
DIY backyard putting greens will be the cheapest option, but that doesn't mean it's the best way. Although labor will always increase the overall cost of your project, it can end up saving you a lot of money in the long run. Not only are you paying for a professional who has access to the necessary tools,  equipment, and supply chain to increase the efficiency of the installation job, but you're also guaranteeing the end-quality of your putting turf. Believe us, it's all too common to sink your teeth into a DIY project, only for something to go awry that ends up draining your wallet or ruining the project altogether.
By investing in a professional putting green installation, you can have peace of mind knowing it was installed correctly and won't require repair or replacement due to not being secured correctly the first time around.
If you're interested in creating the backyard putting green of your dreams, submit a contact form with us today!